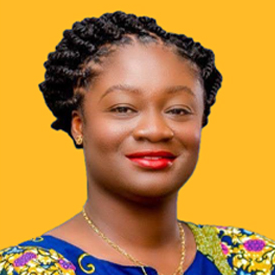 Kosi Antwiwaa Yankey – Ayeh
Mrs. Kosi Antwiwaa Yankey – Ayeh is the first person and woman to lead the Ghana Enterprises Agency (GEA) an agency under the Ministry of Trade and Industry. Her mandate is to strengthen and grow entrepreneurs and Micro, Small and Medium Enterprises in Ghana.
Kosi graduated from the Harvard Kennedy School, USA with a Master's in Public Administration and Certificate in Public Policy. She received the 2016 excellence award for academic distinction and distinguished contribution to the Edward S Mason Programme and a grant under the "Harvard Square to Oval Office" Women in Public Policy programme to support Ghanaian women in politics.
In 2004, she received her BA in Government and a certificate in International Relations from Wesleyan University, Connecticut, USA. She holds a certificate in Market Access for Sustainable Development from Wageningen University, Netherlands and a certificate from a two-year Regional Entrepreneurship and Acceleration Program (REAP) from Massachusetts Institute of Technology. She is a fellow at the IE University, Spain, inaugural Gurus and Griots programme and lecture's part time in their Madrid Campus.
Kosi Yankey has had over 18 years' experience in the USA, Europe and West Africa. She started her career as an Investment Banker at Deutsche Bank on Wall Street, New York. At Deutsche she worked on establishing the first multi-million-dollar microfinance fund set up by an investment bank. Kosi also worked and interned at numerous institutions, notable amongst them are UBS Warburg, Africa Desk, London, Merrill Lynch, Citigroup, Solidaridad and Engineers without borders, Canada. Over the years, Kosi has founded and led the strategic development and growth of various ventures and projects for both international and local partners in finance and agriculture. Through her experience, she has developed a deep understanding and knowledge of Finance, Entrepreneurship, MSME Development, Policy Development, Project Design, Implementation and Fund raising..